The Waltons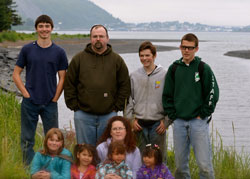 The Walton Family
Kodiak, AK
The judge flew down from Anchorage on Halloween, 2011 to hold court. With little time to spare, three adoptions on the docket, and satisfied the situation wasn't going to change, he saw no need to wait any further.
"I don't want to mess around anymore," Michelle Walton remembers the judge saying, adding that he was convinced all options had been explored.
Kodiak Island, Alaska, the U.S.'s second-largest island at 3,588 square miles – behind only the Island of Hawaii – looks like a thumb print below the Kanai Peninsula, and is one of the most remote and sparsely populated places in the country. The entire island group, called a borough and similar to a county, has a population of about 14,000 people -- which is why it must have judges flown in to conduct court business.
It's also home to the Walton family, who adopted the children, and the Ouzinkie Tribe, based on nearby Spruce Island, which has a population of about 200. Gracie, 5, Kimana, 4, Leah, 3, are affiliated with the tribe, which by law and by custom has an interest in their well-being.
With a few signatures, done in quick succession, the three children were made legally part of the Walton family, who are white.
Three in a Row
It wasn't quite that simple, however. The placements of the three children took place in succession about a year apart, as part of a foster placement, and each one was accepted into the family and loved immediately.
But the children are also part of a wider family, their Alaskan Native family, and in order for the adoptions to pass legal muster, the Tribal Council had to give its blessing. The children had a state caseworker assigned to them, and they also had a caseworker from the tribe.
"The end goal is always to reunite families, but it was impossible to reunite them, and they are siblings," Walton said. "We tried and tried and tried with reunification with the birth families but it just didn't work, so we adopted."
"We didn't think we would be adopting three at one time," Walton added. "It just kind of worked out that way."
Preserving Customs and Cultures
Federal law places restrictions on the adoption of Native American and Alaskan Native children to non-tribal members, favoring instead to keep children within their tribal families to preserve its customs and cultures. Some tribes simply decline to place children with tribal affiliations outside of the extended family, preferring to keep them in tribal foster homes rather than have them lose contact.
Walton said after caseworkers determined placing the three girls with birth relatives was not a viable option, the tribal council approved the adoption.
"It's a lot of hoops to go through," Walton said, but noted that the process went rather smoothly, an experience she said is common in Alaska when whites seek to adopt children with tribal affiliations.
"They are just looking for good homes for their kids," Walton said.
The Waltons started the process of adopting from foster care after first having four children by birth, Abraham, 18, Erik, 16, Cody, 14, and Rebecca, 12. Walton's husband, Aaron, is retired from the Air Force National Guard – and also served eight years in the Marine Corps – and owns an auto repair shop.
Day-to-Day Living
The family had been licensed in 2005 as a foster family, with the hopes of one day adopting. Gracie was placed in 2008, and her sisters then came in 2009 and then 2010. The finalization of all three, on Oct. 31, 2011, took place on Abraham's birthday, which makes celebrations convenient. The three siblings have four other birth siblings who have been adopted, Walton said. She has kept track of them and hopes that one day they can all meet.
Currently the family has a girl, 3, placed with them in foster care. They also plan to adopt again.
The oldest of the girls, Gracie, is highly sensitive to her surroundings, and too much stimuli can overwhelm her. The family wants to bring her to attend traditional Alaskan Native dances, but the flurry of activity and noise would be too much. "Each one is different, but Gracie is the hardest, she is fearful, overwhelmed easily, and hyper vigilant," Walton said. "You can't take them a lot of places. New people make her hide and cry."
Another challenge has been parking lots. For the girls sometimes the urge to bolt is too much, and with limited sightlines and moving cars, it can be dangerous. A permit allowing the family to park in spots reserved for the disabled has helped.
Finding Ways to Preserve Their Heritage
As part of the adoption stipulations for the three girls, the Waltons agreed to make sure the girls are exposed to their birth culture. Each of the children was born with developmental delays and suffers from fetal alcohol syndrome disorder.
Currently, the family's primary focus is teaching the girls day-to-day living skills and how to function in society -- but they do try to incorporate cultural learning when it's possible.
Two of the girls have distinctly darker skin than the rest of their family, and it is something that gets discussed regularly. "They say, 'My skin is brown, your skin is white,'" Walton said. "And I say, 'That's because of your Native heritage.'"
The family spends time talking about Native American culture, watching specials on television and reading books about it.
"We do what we can," Walton said. "They are still pretty young, there is not a lot we can get involved in right now, so we have to do things they understand here at home. It's been pretty interesting that way."