The Evans Family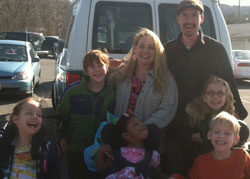 Melanie and Mike Evans
Front Royal, Virginia
Melanie and Mike Evans of Front Royal, Virginia, had one son by adoption, one biological son, and then Melanie gave birth to triplets.
When the Evans knew they were ready to adopt again, they set out to adopt from overseas. Melanie, 33, and Mike, 35, had an idea of the perfect fit: their triplets, all diagnosed with cerebral palsy, made them want to adopt a daughter with special needs.
Despite being nervous about by the idea of adopting a child without complete medical records or post-placement support, the Evans continued their pursuit. Two failed adoptions later, they decided to quit trying. They encountered uncertainty and disappointments with the process, not to mention the lost time, energy, and money.
"OK, that door has been closed," Melanie recalls thinking. "We were kind of feeling burned at that point."
Their experience adopting from foster care, however, stands in high relief.
A chance Facebook post and an open-ended search on AdoptUSKids' national photolisting of children in foster care available for adoption got the ball rolling. Several years after the couple stopped pursuing an overseas adoption, they were led to their new daughter who was in U.S. foster care.
Two weeks after inquiring about her, they were matched. Forever, 5, was placed with the Evans in February. The process took a total of 15 months. Still agonizingly long, Melanie said, but the adoption was finalized Sept. 19.
"It was just amazing how everything fell into our laps," she said, including the services and programs available. "For me, that is the number one thing, having the support in place."
Knowing Adoption Was Right for Them
Before the couple had biological children, they planned to adopt. Both Melanie and Mike grew up with siblings who were adopted. A drunk driver killed Melanie's twin brother when he was 7 years old.
"After he passed, my parents felt a void," she said. Melanie's parents went on to adopt a girl, then adopted four more children
Mike comes from a family of nine children, six of them adopted. Melanie said her and Mike's parents set the example.
"They were the pioneers," she said.
The Evans adopted their first son, Andrew,18, through foster care when he was 4. The couple, who had been married a year, were in their early 20s at the time.
"We knew even before we got married," Melanie said. "It was kind of funny, we talked about adopting before we talked about having biological children."
A few years after adopting Andrew, the Evans had Jeremy, now 10, who is named after Melanie's twin brother. About two years later came triplets, Mariah, Ethan, and Savannah, 8. At eight months of age, the triplets were diagnosed with cerebral palsy.
As the Evans learned about the condition, they became aware of the need for permanent homes for children with special needs in the child welfare system. A friend of Melanie's mother, whom she had never met, posted a notice on Facebook about a foster-to-adopt meeting that piqued her interest. The couple attended the meeting and decided to become foster parents and then resume their search for another daughter. This time, however, they would look closer to home.
"I don't think we ever set out to adopt a child with special needs, but when it came down to it, that is what we were drawn to. Why not? God gave us these three. We are getting all this experience raising a child with special needs, why not another?"
Finding Forever on AdoptUSKids
The couple had decided to restrict their search to Virginia and the surrounding area, parameters that they felt necessary after their experience attempting to adopt from overseas. They set the limit at an eight-hour drive. Then one night, while perusing profiles of children on AdoptUSKids, Melanie didn't reset the search restrictions within the area they wanted to adopt, and on her screen popped up Forever's picture and profile.
"I don't know how to describe it," Melanie said. "We just knew."She woke Mike up to show him."Oh my gosh, she is beautiful," Melanie recalls him saying. "He fell in love with her just by looking at her."
She also remembers him saying, "You do know she is in California?"Although the process hasn't been easy, Melanie said they felt support that they didn't have during their attempt to adopt from overseas.
"It was meant to be," she said. "Looking back, we said, 'Why didn't we go with a domestic adoption from the get go?"
In all honesty, and without knowing for sure, Melanie said she had assumed caseworkers would look hesitantly at her family because of its size and their three children with special needs.
"I have come to realize there are families out there who are larger than ours," she said with a laugh. "We aren't the only ones."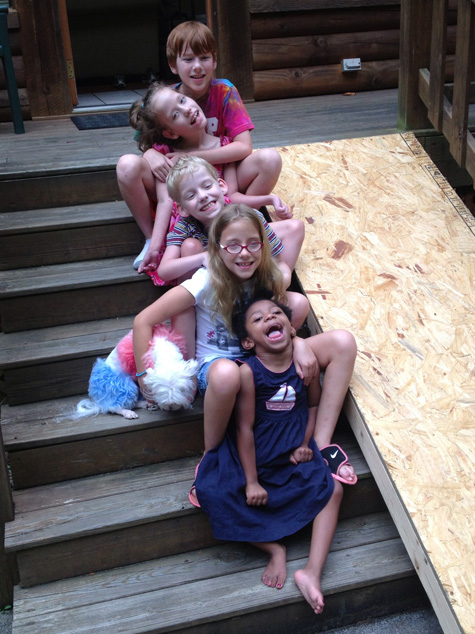 Being Foster Parents First Has Helped
Although the post-placement support that comes with an adoption from foster care is helping to smooth the transition, Melanie said her family's involvement in foster care prior to adopting was invaluable experience. In all, the Evans provided foster care for nine children.
"There were big ups and downs with some of those kids," Melanie said. "Suddenly you have an instant toddler or instant teenager in your house. Talking about it now, and looking back, we are so thankful we went through that."
No matter how wonderful the child is, she said, there are many challenges. The dynamic of her family changed with each addition.
"Going through nine of these prior to getting our daughter prepared us for her," Melanie said. "It has actually made the transition with her so much smoother."
She credited the state contracted agency, Lutheran Family Services of Winchester, Virginia, and her caseworker, Amber D. Brown, for their support.
"Having so many people involved is a really good thing," she said