The Garrett Family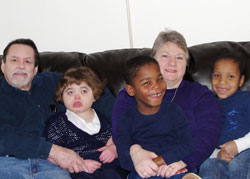 Garrett Family
Hampton, Virginia
When Susan Garrett of Hampton, Virginia, first saw the photo of her son Aaron in 2009, she got that feeling many adoptive parents get and describe happening in the same way.
"I saw his picture, I knew it was him," she said.
It wouldn't be as simple as that though. With Aaron, who was 4 years old, living hundreds of miles away from the Garrets, there were more than the typical challenges of adopting a child with special needs.
"He was in Florida, we were in Virginia," she said.
Garrett and her husband Rick had six children already, ages 6 to 35 with three of them adopted. They wanted to add another to their brood, which led them to the AdoptUSKids website and the photo of Aaron.
But the distance made them think twice. They were licensed foster parents, which is how their other adoptive children had originally been placed. This allowed them to get to know each other before they decided it was a good match. The Garretts were also concerned about traveling because of the special needs of their other children.
"So we didn't send out our home study, we sent it to places closer by such as South Carolina, North Carolina, Maryland, West Virginia," she said.
They also sent inquiries on a couple of children living in Virginia.
"And nothing ever came of it," she said. "We talked to one or two social workers, that's as far as we got."
Not Letting Distance Deter Them
Months went by, and Garrett kept checking the AdoptUSKids website. And each time, the photo of Aaron caught her eye.
"This little face kept popping out at me every time I went on," Garrett said.
That's when Garrett decided she wanted to take a chance. She asked that the family's home study be sent, and also sent an email to Aaron's caseworker saying she was interested. The Garretts got a call back within two days.
"After five months everything went boom, boom, boom," Garrett said. "It was really quick."
That isn't to say interstate adoptions don't come without complications. But, as Garrett realized, proximity shouldn't be the deciding factor in whether to bring a child into one's home.
"Just because a child lives in your vicinity does not mean it is a good fit," she said.
Navigating an Interjurisdictional Adoption
As for the complications that arose with pursuing an interstate adoption, the first was making the trip to Florida.
"Traveling is not just jump in the car and go for us," Garrett said. "We have wheelchairs and equipment and all that kind of stuff to consider."
However, they decided to make a vacation out of it, and in June 2009 they had the chance to spend eight days getting to know Aaron.
That part of the interstate adoption was also a different experience than what the family was used to. Rather than having Aaron at their home, they visited him at his foster home. Garrett credits Aaron's foster family for making the visit a success.
"If they had not been such wonderful people, I'm sure it would have been much different," she said.
But despite only having eight days with Aaron, Garrett knew it was right, just like she did when she saw his photo on AdoptUSKids.
"He crawled up on my lap and just sat there," she said. "It doesn't have anything to do with anything that makes sense."
There was more paperwork, and they had to go through the process twice, once for the state of Virginia and once for the state of Florida. The waiting was almost unbearable.
"It was really hard waiting and leaving him there," she said. "We couldn't visit or anything, he wasn't able to talk to us on the phone."
Having the Wait Pay Off
The waiting paid off, and Aaron was placed with the Garretts in October 2009. The family was told it would take about a year to finalize an interstate adoption, but in Aaron's case it only took about six months.
Prior to his placement with the Garretts, Aaron had been living in a nursing home for more than three years and in a medical foster home for 10 months. Born premature and with chronic lung disease, Aaron was developmentally delayed and couldn't walk, talk, or eat when he arrived at the Garretts.
To watch his progress, Garrett said, has been an amazing experience, especially considering Aaron's physical therapist didn't know what to expect.
First they got him learning how to get around with a walker. Then he slowly stopped taking most of his medications, had his tracheal and feeding tubs removed, and now has a healthy appetite and eats whatever he wants.
"It was a struggle," Garrett said. "Introducing vegetables was not a fun process."
With the love and hard work of his parents, Aaron now can run, walk, eat, drink, and talk.
"He is an amazing kid, he really is," Garrett said.
Inspired by this story?
Find out more about how to adopt and how to foster.
Media who would like to interview the Garrett family, contact us at info@adoptuskids.org or 888-200-4005.