The Covington and Allen Family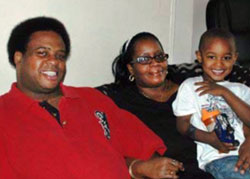 Covington and Allen Family
New York, New York
Elizabeth Covington and Warren Allen live in New York City and have provided foster care to eight children over the last five years. They recently adopted one of the children, 4.5-year-old Assad, who was placed in their care when he was three weeks old.
Asaad's adoption was finalized on August 12, 2009, which happens to be Allen's birthday. The adoption brought the already tight-knit family closer. They look forward to adopting two more children with special needs close to Asaad's age.
As a registered family of AdoptUsKids, meaning they have an active and approved homestudy, Covington and Allen are completing their search using the AdoptUsKids photolistings of children available for adoption.
Covington and her fiancé Allen say their compassion and drive to be effective, loving parents come from adversities they've faced in their own lives. Covington is the survivor of a car accident that left her with serious injuries, and Allen suffers with diabetes.
"Asaad has brought so much joy into our lives. He is in pre-school and blossoming," they said.
The family, which includes extended relatives who have shown tremendous support over the last five years, love going on outings to movies, church services, museums, and libraries together.
Find out more how to adopt and how to foster.
Media who would like to interview the Covington and Allen family, contact us at info@adoptuskids.org or 888-200-4005.