The Meadows Family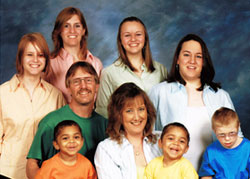 Meadows Family
Sandusky, Ohio
When Rick Meadows asked his wife Beth to marry him 23 years ago, she blurted out "I want 12 kids!" He replied, "Well, maybe six." Today they're working on adopting numbers nine, 10 and 11.
Deciding to become foster parents
The Meadows knew they wanted to start a family soon after they got married, and decided to try foster care while waiting for what they endearingly refer to as their "homemade kids."
"While reading the newspaper one day, I saw an ad for specialized foster parents for troubled teens to help transition them from residential treatment back into their families. We decided that while we were waiting for our own kids to come along, we would do that. I was barely 21 and Rick was 23," Beth said.
After helping several teens, the Meadows became pregnant with their first daughter. They moved into a five-bedroom house and decided to switch from specialized foster care to regular foster care and take in younger children.
"There was no discussion about adoption. We were just foster parents," Beth said.
Deciding to adopt
Then came Shannon, who had recently turned three. The Meadows were his twelfth placement, including failed reunifications. "When the agency took permanent custody, there was no doubt we would adopt him," Beth said. Fast-forward 12 years and three more "homemade" daughters later, another three-year-old named Elijah came into their life.
Elijah, who was born with Down syndrome, was incredibly medically fragile at the time. He required daily oxygen, tube feeding and had other medical issues.
"He wasn't expected to walk and couldn't talk. Six years later he walks, runs, dances, reads, and talks with sign language. He's the light of our lives," Beth said.
When the Meadows were deciding to adopt Elijah, Beth took her four daughters – Jillian, Micayla, Kelsey and Natalie – out for coffee.
"Rick and I discussed even though we were head-over-heels in love with Elijah, it wasn't fair to the rest of the family. Someone would still have to care for him after we're no longer here," Beth said. "That's when we had coffee with mom, and all the girls immediately said, 'He's not going anywhere.'"
Deciding to adopt again
In 2004, Elijah's adoption was finalized and the Meadows decided they weren't done growing their family.
"Well, it all started with me saying, 'You know, I really wouldn't mind adopting again,' and Rick looking at me like I was nuts. Then I started looking at photolistings on AdoptUsKids and other sites and found Cameron and Jacob. It was love at first sight," Beth said.
Cameron and Jacob, 17-month-old twin boys born with bilateral renal dysplasia, were on dialysis and needed kidney transplants.
"They lived 2,000 miles away in Washington, and I figured there was no chance we would be chosen for them with their medical needs because we already had six kids. Thanks to their awesome caseworker and our great medical team at Rainbows for Kids, the boys were in our arms less than a month later," Beth said.
Then the miracle of all miracles happened, Rick matched both boys for a kidney transplant. The doctors recommended donating to the more fragile boy first, and while they were in the hospital recovering a match was found for the second boy.
"There was not a dry eye in the hospital when the second transplant was over," Beth said.
Today, both Cameron and Jacob are recovering and the Meadows are working on adopting a sibling group of three ages nine, 10 and 16.
"There is an old Chinese proverb that says, 'An invisible red thread connects those who are destined to meet, regardless of time, place or circumstance. The thread may stretch or tangle, but it will never break.' We can't wait to see who will be next," Beth said.
Find out more how to adopt and how to foster.
Media who would like to interview the Meadows family, contact us at info@adoptuskids.org or 888-200-4005.