The Boulton-Soberinsky Family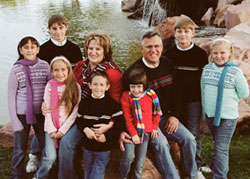 Boulton-Soberinsky Family
Las Vegas, Nevada
With seven kids from three sets of separate birth parents, Nancy Boulton and Chuck Soberinsky take pride in the blended, single unit their family has become.
"Our motto is openness and direct communication when it comes to discussing adoption-related and other issues. Our children are very good at expressing themselves and have developed a realistic awareness of who they are, where they come from and where they belong," Boulton and Soberinsky said.
Deciding to adopt
After trying to conceive and experiencing fertility issues, Boulton and Soberinsky decided to adopt.
"We realized it was just becoming too expensive and that we could still have a family by going through the adoption process. We never regretted our decision and are firm believers of adoption," Boulton said.
After their first two adoptions of Elliot, 13, and Madeline (Maddie), 10, both adopted as infants, Boulton and Soberinsky thought they were done growing their family.
At that time, we thought we were going to have as many kids as we were going to have. We had busy careers and lives and lots of family and seemed very fulfilled. Then we saw a sibling group of four featured on Wednesday's Child," Boulton said.
Deciding to grow their family
Soberinsky, who works for the University of Nevada, Las Vegas, was home sick and happened to catch the weekly Wednesday's Child feature on their local news about four siblings all under the age of 10 who had been in foster care almost their entire lives.
"Had he not been watching at that moment, on that specific day, we never would have known about Heather, Sophie, Jack and Hannah," Boulton said.
When Boulton, who works for the U.S. courts, got home that evening Soberinsky told her the touching story of the four kids who had two previous adoptions fall through. After sleeping on it, Boulton and Soberinsky woke up at 5 a.m. the next morning and knew adopting the sibling group was something they had to do.
"Before we adopted them, we talked to Elliot and Maddie who were 10 and seven at the time and it was a family decision. We explained there would be a lot of change in not having mommy and daddy to themselves and that financially things would be a little tighter, but they were very receptive and gung-ho," Boulton said.
Just two years after adopting Heather, Sophie, Jack and Hannah, Boulton and Soberinsky had the opportunity to adopt Elliot's birth brother Roger who is one year older than him—completing their family at seven kids.
Becoming a blended family
"Even though our children come from three sets of separate birth parents, with diverse backgrounds and different circumstances, they have remarkably achieved the ability to become a single blended unit allowing us to become a functioning family," Boulton and Soberinsky said.
There was a lot of adjustment that included counseling sessions, establishing boundaries and routines and reassuring all the children they were loved and accepted for who they were, Boulton said.
"Even to this day we make it habit to sit down to a family dinner at least five times a week to talk about their days, how things are going and anything else they want to talk about," she said.
By being proactive and sensitive to their special needs and insecurities, Boulton and Soberinsky have helped the children overcome their emotional scars and upheaval to establish a sense of permanency in their lives.
"Whether you're fostering or adopting, the situation will present many challenges and unforgettable moments of joy. Persevere during times of difficulty. The outcome is well worth the tumultuous journey," Boulton said.
Find out more how to adopt and how to foster.
Media who would like to interview the Boulton-Soberinsky family, contact us at info@adoptuskids.org or 888-200-4005.