Helping Foster and Adoptive Families

We're here to help you whether you're just starting the process to foster or adopt, waiting for a placement, or looking for post-adoption resources.

If you can't find an answer or the information you need below, we have a staff of adoption specialists ready to connect you with the resources you need. All you have to do is contact us.
The Road to Adoption
and Foster Care
Hear from real families who have walked the road to adoption and foster care, and the children whose lives they've changed forever.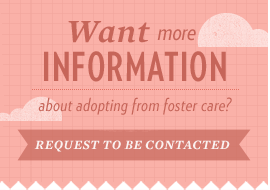 Featured Child
Name: Dallas
Age: 12
Location: Illinois
When he is not happily engaged in conversation, 12-year-old Dallas enjoys reading fantasy books, playing sports, and collecting Pokémon cards. Dallas would like to connect with a family that includes a mom, a dad, and, possibly, older siblings.
Featured Siblings
Name: DeShawnta, Jamison
Age: 15, 12
Location: North Dakota
Deshawnta ("John"), 15, is a sweet, sensitive young man with a love for animals. His brother Jamison, 12, is a huge fan of Legos and video games. Both boys enjoy camping and playing basketball.